Courting Darkness - Week Blitz
She's captured the hearts of Heaven and Hell…
Betrayed by her true love, Olivia cannot let go of the angel her mind doesn't remember, but her heart refuses to forget. In an attempt to reclaim her broken life, she is determined to unearth her past, but some secrets are better left buried.
To save her life, he sacrificed everything. Universal Law was broken when Liam violated Olivia's free will. His guardianship has been revoked, and the pain of letting her go is nothing compared to the torture of enduring their shattered bond. He can no longer sense her, no longer feel her, and the enemy he risked it all to save her from, now has free reign to claim her for his own. To get her back, Liam must turn away from all he is, all he was, for the one thing he may have already lost forever—Olivia's love.
Haden will stop at nothing to possess Immanuel's Stone, and locked away in Olivia's memories is the key he needs to find it. But in his quest for vengeance, he never expected to lose his heart to the enchanting green-eyed beauty. Forced to choose between love and revenge, Haden is captivated by a woman who will never be his…or will she?
Before Olivia's feet could touch the pavement, Haden's hand was on her arm–his grip firm and unrelenting. It was difficult to imagine his touch being otherwise, yet only a score of minutes ago, he'd held her with a gentleness she'd thought him incapable of.
Looking at him now, wearing that standard-issue scowl, the impassive arrogant glint in those sea green eyes, she'd swear this wasn't the same man. And therein lay the problem… She thought of him as such when the truth was, Haden wasn't a man at all. Sure, he shared some of the same Homo sapien genetics, but he was so much more. And the minute she let her guard down and forgot that, was the moment she'd surely die.
Grinding his arousal against her backside, he growled, "I should take you right now for that little stunt. Haul that cush ass of yours into the back seat and finish this!"
It was a threat Olivia knew he could easily carry out. At her shameful, breath-hitching sob, Haden hissed a curse. His biting grip on her neck eased a touch. "Do you think that I want to want you, Olivia?"
She hoped his question was rhetorical because she couldn't speak past the lump in her throat.
"Do you think this is some game you can outplay, outwit and outlast me? It's not Survivor! I am ancient, Olivia, old as fucking Noah and his Ark. I've spent lifetimes hunting and killing the Sighted. Do not tempt me again, or I swear to God I'll finish what you started."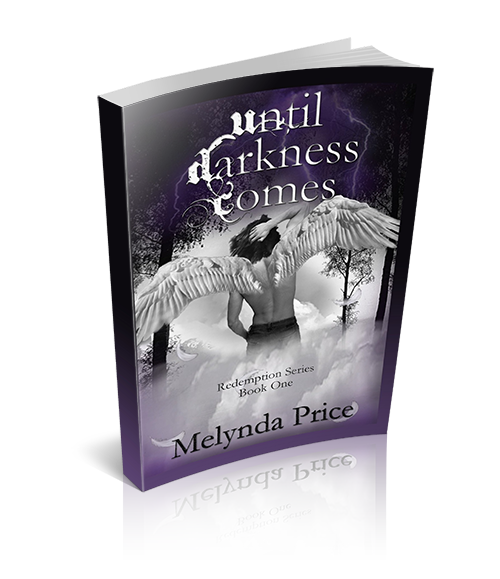 Melynda Price Author Spotlight:
An avid lover of paranormal romance, Melynda was inspired to write the Redemption Series after reading the Book of Enoch. She's always had a fascination with stories about angels, and the role they've played in the history of our multi-dimensional world.
She attended Bethel University in Minnesota holding AA, ASN and BSN degrees, but her true love is creative writing and story-telling.
She lives in Northern Minnesota where she has plenty of snow-filled days to curl up in front of the fireplace with her Chihuahua, and a hot cup of coffee, to write. She's blessed with two amazing children, and a wonderful husband of nineteen years.
"Writing the Redemption Series has been a fantastic adventure, culminating a world of mystery, suspense, love and deception. Have you ever wondered what it might be like to see beyond our dimension? Step into Olivia Norton's world, where nothing is quite as it seems, and evil lurks where she least expects it."
Author Links:


Buy Links:


This Blitz is brought to to you by Reading Addiction Book Tours