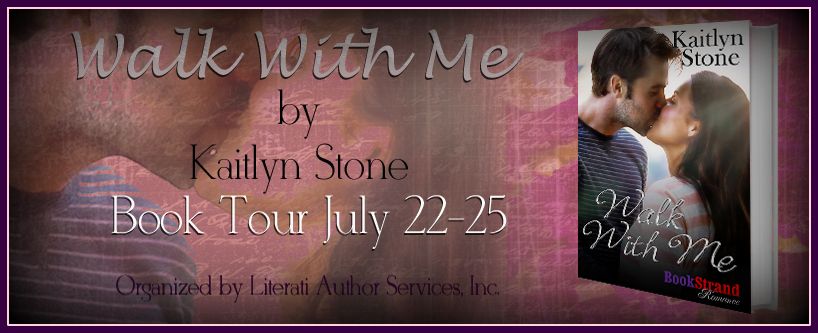 Walk with Me (The Thin Blue Thread)
Genre: Contemporary New Adult
Publish Date: July 22nd, 2014
Publisher: BookStrand
Oraganized by Literati Author Services
~ Synopsis ~
After escaping her abusive parents, nineteen-year-old Kenna Sloane is determined to create an independent life, free of emotional distraction. The last thing this focused college student wants is a relationship, especially with a hot rookie cop popular with the badge bunnies.
When Kenna reluctantly agrees to a double date with Santa Monica cop Donovan Alexander, she's launched on an exciting and dangerous journey. With time, she discovers some souls are instinctively drawn together to quiet the pain of their traumatic pasts. But even after the revelation of Donovan's own secret burden, Kenna continues to battle the fear she may be too broken for her modern day knight in blue.
Can Kenna open her heart to the healing light of true love before peril strikes?


Buy Links:
Excerpt:
I look in to his half-hooded eyes and drop my lips to just a fraction above his. He opens his lips slightly and I mimic the action of kissing him but don't actually touch his lips. The magnetic or electric pull between us is palpable. The further I pull back it wanes, but hovering my lips just over his builds in sensation. It's like two magnets coming close together. I love this feeling—the building in intensity with each swipe of my lips close to his but not actually touching.
Donovan pulls his hands from mine and grabs the sides of my head, pulling me into him, crashing his mouth on mine, and detonating an explosive kiss that sends me reeling into outer space. Without breaking our kiss, he rolls me over on to my back, taking back control. I submit to him because I trust him. He must sense this because he slows the kiss and eventually stops by laying his forehead to mine as we catch our breath. He pulls his lips back from mine and swipes away the hair from my face, planting gentle kisses all over my lips, jaw, and neck.

I feel like we have just shared in something liberating for both our souls and we can now walk hand in hand toward that healing light.
I received a copy in exchange for an honest review!
What I say (review):
Walk With Me follows

Kenna Sloane as she tries to build a new life for herself away from her controlling and abusive family. Kenna's busy studying and has a clear plan of what she wants from life. It doesn't include relationships and love.
Danielle, Kenna's bestie, is determined to 'help' Kenna and introduces her to young policeman Donavan. Donavan and Kenna have the whole insta-attraction thing going on. I'm not the biggest fan of insta-love or attraction and they do get involved very quickly, but with the lack of love in Kenna's past I could understand why Donavan would be so attractive to her.
There are a fair amount of mistakes and misunderstandings which get in the way of their HEA. Generally speaking, I'm not all that sentimental, but I found myself really hoping they could figure things out and move on together. Kenna is really haunted by her past and she has a fair amount of issues. Half-truths still count as lying people!
I did feel their relationship was kinda rushed at times and would have liked a more developed ending but the pace fit in with the
characters and story which I enjoyed!
Author Spotlight:
Since childhood, Kaitlyn Stone has gravitated toward fairy tales and happily- ever-after's, forever chasing the first love dragon. She is a self-professed adventure junkie, constantly talking her husband and family into some new life adventure, where they've learned to just buckle up for the exciting ride. When they do stay home, it's in sunny Southern California located along the Pacific Ocean.
Guest post from author Kaitlyn Stone:
DESCRIBE BOOK USING WORDS FROM TITLE
W
illful – Kenna's personality
A
ction packed, never a dull moment in this book
K
indred spirits – What Kenna and Donovan are
W
eeping, what you will do from some scenes
T
itillating tale of love and romance
M
oving, compelling – the feelings evoked from specific chapters
E
ncouraging, patient – Donovan's treatment toward Kenna
Giveaway $25.00 Gift Card