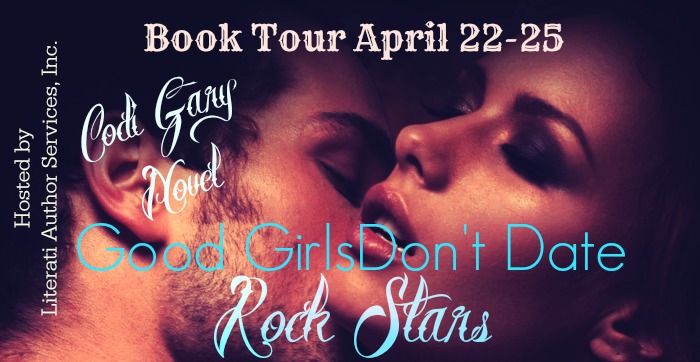 Good Girls Don't Date Rock Stars
Genre:
Contemporary Adult Romance
Publish Date: April 22, 2014
Publisher: Avon Impulse an Imprint of HarperCollins
Gemma Carlson didn't plan on waking up married.
She also didn't count on running into her old flame—and her son's father-turned-country-rock star—Travis Bowers, followed by a night of drunken dares. Apparently one of those involved a ring on her finger and a vow…neither of which she intends to keep. Now with a hangover from hell, this good-girl-gone-bad knows there's just one thing to do: run.
Travis has been all over the world, but Gemma has never been far from his thoughts. So when he had the chance to catch up over a few drinks, he didn't hesitate. Of course he didn't expect it would lead to marriage, or a runaway bride! Travis finally has a second chance and doesn't plan on losing Gemma again—or the son he didn't know he had. He proposes—albeit belatedly—a date. Or rather, a few. If they can make this marriage work by starting over, he stays. If not…
Gemma's not interested; she's got a son to protect and a heart to heal. But having Travis around
could
make both a little easier. Still, good girls don't date rock stars…right?


Excerpt:
How many glasses of champagne did I have last night?
Gemma Carlson groaned, gritting her teeth against the stabbing pain that seemed to be spreading through her brain. She didn't want to open her eyes, afraid of what she would find. Right now she was only sure of two things. One, her head hurt like a son of a bitch and two, she was very, very naked.
Prying open her right eye, she tried to focus on her surroundings, but instead of seeing intricate, golden wallpaper, she found the walls were now light colored. A couch sat in the corner of the room, though her room had had a tiny office chair and desk. The landscape on the wall was new, too.
She opened both eyes, blinking rapidly at the dryness, and realized she had no idea where she was.
Which meant she obviously wasn't in
her
hotel room.
A light snore behind her caught her attention and she stiffened, turning her head slowly to look at her bedmate. She sucked in a breath at the sight of dark curls and a broad back, the only things visible above the heavy comforter.
Sitting up, she swallowed down the rolling nausea and fought the splitting headache, catching her face in her hands. And then she felt it. Something cool and metal on her finger. Something that definitely shouldn't be there.
Pulling her hands back, she stared at the large three-stone diamond ring on her left index finger and froze.
Playlist:
An obsessive bookworm, Codi Gary likes to write sexy small-town contemporary romances with humor, grand gestures, and blush-worthy moments. When she's not writing, she can be found reading her favorite authors, squealing over her must-watch shows, and playing with her children. She lives in Idaho with her family