The Year I Became Isabella Anders
by Jessica Sorensen
Isabella Anders has always been the girl that never fit in. Most days she feels invisible, especially when she's around her older sister, Hannah, who catches the eye of everyone, including Kai and Kyler, the boys who live next door.
Isabella has had a crush on Kyler for years, but knows he'll never see her as anything more than Hannah's little sister, unless she finds a way to standout.
When Isabella gets an offer from her grandmother to travel overseas for the summer, she seizes the opportunity, hoping she'll discover more about herself. And she does, but not in the way that she expected.
Three months later, Isabella returns home an entirely new person. The change is enough to catch both Kyler and Kai's attention. But Isabella is still struggling with what she discovered over the summer and until she deals with the truth, she'll never truly be herself.


♥ BUY THE BOOK ♥
I received a copy in exchange for an honest review!
What I say:
It took me a couple of chapters to really get invested in the book but once I did I quickly became engrossed

.

I loved the mixture of fun and drama throughout the story. Isabella starts the book broken and downtrodden by her strange family situation, but once she allows people in, she finds her inner strength, and as the title suggests, becomes herself.
The pacing is quick - Jessica Sorensen doesn't go overboard with too many details of Isa's trip, but provides enough that we get to know her and her situation. I really liked the secondary characters;
Indigo and Isa's Grandmother
really made me laugh.
I loved Kai and really want to see more of him in the next book. I'm definitely a member of #teamkai because not only is he mysterious and really determined to redeem himself, he also made me laugh and
swoon. I felt as though he honestly seemed like a good fit for Isa, and isn't just a fantasy.
I kept hoping Isa would stand up to her awful sister Hannah and hideous mother. There isn't enough justification in the world for how they treat her!
The Year I Became Isabella Anders
is the first part in a coming of age story. Isa may have gotten some answers, but she has so much more left to discover. I have many questions regarding Kai and his situation. I
think it may actually be one of my favourite Jessica Sorensen books. Gimme book two!
4 Stars in my Sky!
Author Spotlight: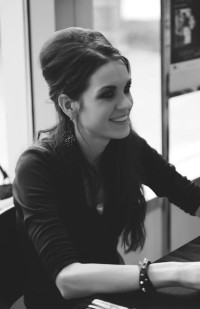 Jessica Sorensen is a New York Times and USA Today bestselling author from the snowy mountains of Wyoming. When she's not writing, she spends her time reading and hanging out with her family.