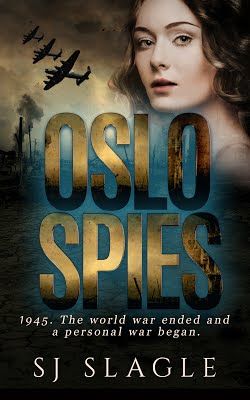 Norway is a destroyed country at the end of World War II. After a relentless German occupation, Norwegians have lost more than imports and exports, everyday goods and services, communications and social events. Norway lost more than 10,000 men and women in the resistance as well as in slave labor and concentration camps scattered throughout Europe. Norway lost hundreds of teachers and religious leaders who died resisting Vidkun Quisling, the head of the Norwegian Nazi Party. Quisling's demands for Nazi indoctrination to be taught in schools and churches forced teachers and pastors to quit their posts and work underground. Perhaps worst of all, Norwegian children were deprived of their childhoods, a most precious commodity.
It seems a horrendous assignment for Phyllis Bowden, a young woman in military intelligence assigned to the Office of the Military Attache in the American Embassy in Oslo. Her official tasks include intelligence duties and finding families of lost loved ones. These duties, as tough as they may be, pale when she's faced with something that occurs outside the office. One night Phyllis finds a runaway child in a café bathroom one night, a little girl labeled a quisling because her Norwegian mother married a German officer. A contentious purge has overtaken the country and quislings are not to be tolerated. But the girl has been tortured and abused by the time Phyllis finds her. She's faced with the conflict of doing the right thing or doing what the government dictates. Either way could have international complications.
Meanwhile the love of her life, Joe Schneider, an Mi5 agent, has disappeared in Romania while on assignment and it's a race to find out what's happened to him. Between nerve-wracking tasks in her job, trying to decide the fate of the little girl and being heartbroken over Joe's disappearance, Phyllis is in for the struggle of her young life and intelligence career.
SJ SLAGLE started her writing career as a language arts teacher. Her initial interest was children's stories, but moved on to western romance, mysteries and historical fiction. She has published 24 novels, both independent and contract. SJ contributes regularly to guest blogs and has her own blog called anauthorsworld.com in which she discusses the research involved in the books she writes. SJ has established Twitter and Facebook fan bases, a quarterly author newsletter and a website under her pseudonym: JEANNE HARRELL at jeanneharrell.com.
Her first historical fiction novel, LONDON SPIES, was awarded a B.R.A.G. Medallion in 2018 and Slagle was a finalist in the 2017 UK Independent Book Awards. She was given the Silver Award with the International Independent Film Awards for her screenplay called REDEMPTION. SJ conducts writing/publishing symposiums in her local area. OSLO SPIES, her second historical fiction novel will be published in September. She lives and works in Reno, Nevada.