Blood Feud - The Legends of Ansu #9
by J.W. Webb
Epic Fantasy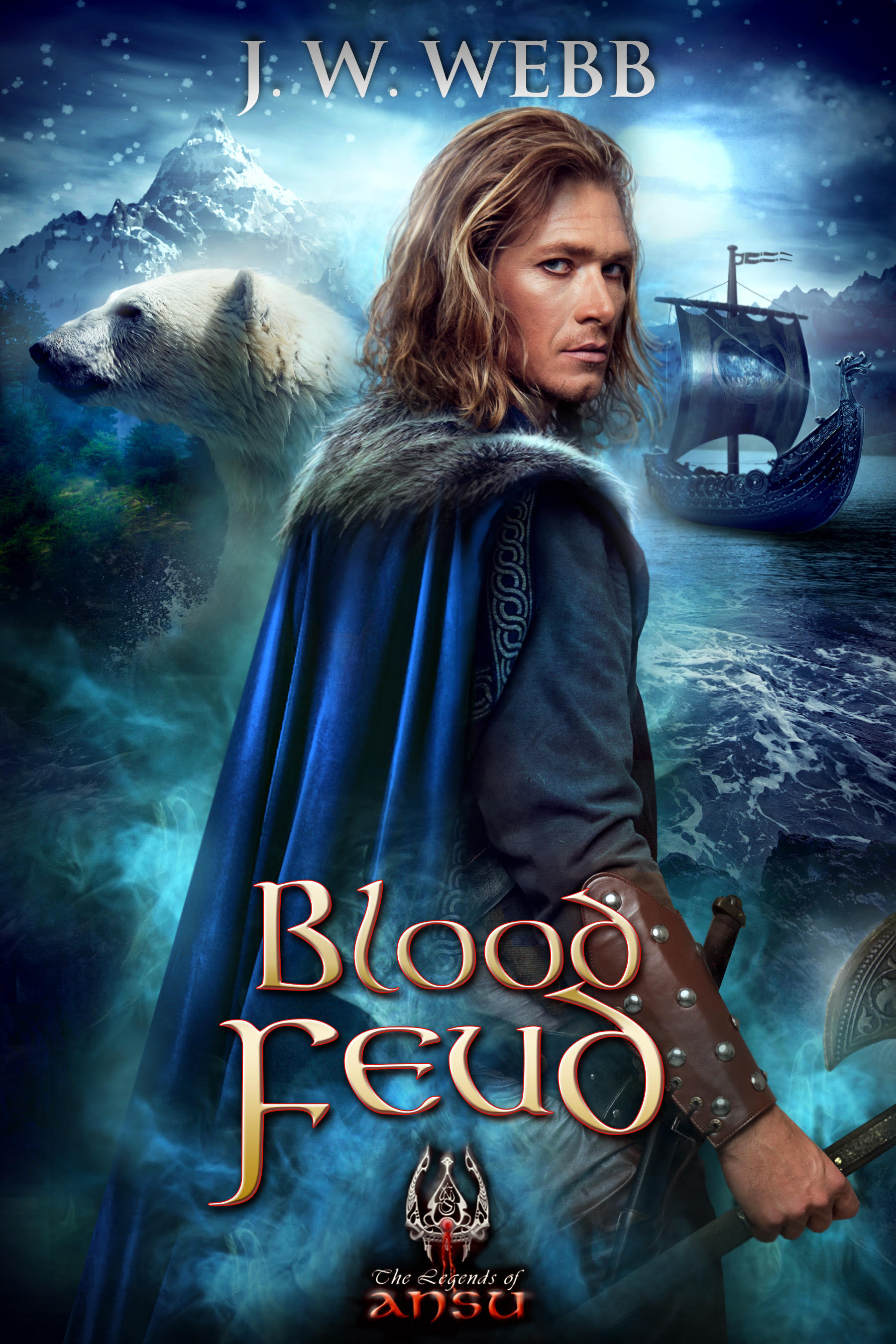 What they say: Jaran Saerk is an exile from the North, driven out of his homeland by a sorceress who killed his family. Now serving as a warrior in the armies of the Imperial Shen, he's never forgotten his vow to avenge his family and take back what is rightfully his.
Recently captured, Savarna hides a dark secret and doesn't plan on staying a slave for long. Once she's escaped, she'll slip inside the Golden Palace and kill the Empress of Shen. When she meets the exiled warrior from the North, she finally may have her chance.
Finvar the Droll is a retired thief who insists he can help Jaran in his revenge against the witch. But whose side is he really on?
With enemies surrounding them on all sides, the trio must unite to stay alive in a realm trapped between war and sorcery, and to take down the witch Sheega before she destroys them all.
Excerpt:
A huge figure knelt by a roaring blaze. A shaggy haired man he appeared, with corded muscle and barrel-chest. He wore a kilt, but no cloak to cover his naked torso. Like Jaran, the stranger bore many scars on that flesh. And on closer inspection, he saw the man had only one arm. A distant memory flickered through him. And a name.
Tyho.
The one-armed warrior. A god of the north. Jaran knew the god was testing him. Despite his fear he stepped out, approached the crouched figure, who looked up casually as he walked close.
"Your friends worry that you've left them, Jaran Saerk." The voice was a gravel-scrape and thunder boom, those eyes glints of blazing sliver fire, the moonlight trapped inside.
"I needed time alone." Jaran shoulder-tossed the elk in front of the god as a gift. He heard it boded ill, meeting Tyho the War God alone in the wild. "Time to think."
"A gift for a gift." Tyho rose to his feet, standing massive before Jaran. He reached behind his back and produced a huge long-hafted axe. "Your enemies are closing. You will need Griner to kill them."
Jaran felt uneasy. Why would Tyho want to help him? And what would he ask for in return? Despite his misgivings, he gripped the weapon and thanked the god. Tyho pinned him with that terrible gaze. "Use it well. Griner belonged to Borian once, before that deity perished in the timeless wars. It serves you now—in the new struggle."
"You mean against the witch, Sheega?" Jaran hefted the axe. It was heavy, the intricate rune markings glinted on its beard. He sensed power in the weapon. Felt strength flowing into his arms. Strength and something else. A slow burning rage. "I will avenge my father," he told the god.
"You had best go back," Tyho said, his silver eyes blazing. "Your little camp is under attack."
Author Spotlight:
J. W. Webb is an English writer living in Georgia. Mostly he writes fantasy, though sometimes diverts in even stranger directions. His epic saga, The Legends of Ansu, blends the mystic grandeur of J.R.R. Tolkien with the gritty realism of George R.R. Martin. Webb's characters are three dimensional and flawed, their world a tapestry of vivid color and constant motion. All the books feature beautiful sketches by the late Tolkien illustrator, Roger Garland. When he's not writing, he spends his time in the garden or attending to the demands of his cat-overlords and dog companions.
Website * Facebook * Twitter * Blog * Goodreads
Purchase here:
Read FREE with Kindle Unlimited
a Rafflecopter giveaway